Did you know that the current world's leading electronic industry Samsung began its journey by producing noodles first?
It may sound unbelievable if you look at Samsung now, but its true.
Check out the quick timeline, A Journey of Samsung from Producing their own Noodles to Leading Electronic Company.
Lee Byung Chull (1910-1987), the man behind Samsung. He was the Founding Father of Samsung Group.
He Belongs to a large landowning family in the Uiryeong county moved to nearby Daegu city and founded Samsung Sanghoe in Taegu, Korea.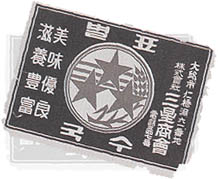 In 1938 Samsung started as a small trading company that sold dried fish locally-grown groceries and made noodles with a capital of 30,000 won.
Samsung Byeolpyo noodles logo, used from late 1938 until replaced in 1958.
In 1947, Lee was forced out of during the Korean war and started a sugar refinery in Busan named Cheil Jedang. Cho Hong-Jai, the Hyosung Group's Founder jointly invested in a new company called Samsung Moolsan Gongsa, with Samsung's founder Lee Byung Chull.
The Hyosung Group Founder Cho and Lee separated due to differences in management style 1951, which led to the separation of Samsung Moolsan into Samsung Group, Hyosung Group, Hankook Tires, and Lee taking over Samsung Group.
Lee founded Cheil Mojik and built the plant in Chimsan-dong, the largest woolen mill ever in the country, in 1954.
And, in 1958 Samsung Group changed its logo for the first time.
In 1966, Joong Ang Development established (known today as Samsung Everland).
Samsung's founding Chairman Byung Chull Lee and other executives gathered for a meeting where a crucial decision to enter the electronics business were made in 1968.
Samsung Electronics was established during the year 1969, Later next year in 1970 Samsung-Sanyo succeed in producing 12-inch black and white TVs, and just two months after the production, it exported the TV sets to Panama.
A lot happened after the establishment of Samsung Electronics, After the great success of Samsung Sanyo 12inch black and white TV. In 1972
Samsung set up a Braun-tube bulb factory and after extensive investment and expansion of production lines. Right after that the next year in 1973
First Samsung-developed TV Product was born: The 19-inch transistor black and white Maha 506.
After the Great Success of Samsung Electronics Samsung had to put his stronghold in Heavy Industries. Right next year after the Success of Maha 506. In 1974 Samsung Heavy Industries incorporated, Samsung Petrochemical was established.
Samsung reached the 5 million milestones in the number of TVs produced and expanded, Its Black and White TV lines to become the world's No 1 manufacturer in 1978, and Samsung Semiconductor and Samsung Electronics became separate entities.
In 1979 Samsung Began the mass production of microwave ovens, making other competitors run for their money.
1980, Samsung acquired the Gumi-based Hanguk Jeonja and entered telecommunications hardware, which later became the center of Samsung's mobile phone manufacturing. Same year Samsung began producing Air Conditioners.
The 1980s Started with Samsung producing 1 millionth color TV for the world
Later, in 1982 Samsung had to expand its territory for manufacturing so Samsung established its first manufacturing subsidiary in Portugal due to low distribution cost and low-cost workforce.
Samsung started to make personal computers and succeeded in developing an 8-bit PC (SPC-1000) as well as upgrading information processing technologies in 1983. After some time in the mid of 1984 Samsung exported first VCRs to the United States.
1986, Samsung developed the world's smallest lightest 4mm videotape recorder.
Samsung Semiconductor was chosen as the official sponsor for the 1986 Asian Games.
1987, was the darkest year for Samsung.
Right after Samsung Aerospace Industries (now Samsung Techwin) was launched in February. Samsung's founder Byung Chull Lee passed away after almost 50 years at the helm of the company.
Byung Chull Lee's son, Kun Hee Lee, succeeded him as the new Chairman. After the terrible loss to the World and Samsung.
During this period, Samsung challenged itself to restructure old businesses and enter new ones to become one of the world's top five electronics companies.
1988, Samsung Semiconductor & Telecommunications Co merged with Samsung Electronics. Home Appliances, Telecommunications, and Semiconductors selected as core business lines.


Samsung developed its first Mobile Phone handset, that was completed in 1991
1992 Samsung became the world's largest producer of memory chips and is the world's second-largest chipmaker after intel.
Development of world's first 64M DRAM completed
Development of 250 MB Hard disc drive completed.
Lee Kun-hee sold off ten of Samsung Group's subsidiaries, downsized the company, and merged other operations to concentrate on three industries: Electronics, Engineering, and Chemical in 1993
In 1994, Samsung donates around $100 Million per annum to the Samsung Medical Center a non-profit healthcare provider founded by the Group.
In 1995, Samsung created its first liquid-crystal display (LCD) screen, to become the world's largest manufacturer of liquid-crystal display panels after ten years. Samsung Advanced Institute of Technology Developed the world's first real-time MPEG-3 technology.


It was 1996 when Samsung developed the world's fastest CPU (central processing unit), The Alpha Chip
Samsung survived the 1997 Asian Financial Crisis relatively unharmed, but Samsung Motor was sold to Renault at a significant loss.


Samsung became a Worldwide Olympic Partner (TOP) in the wireless communication category the same year.

Samsung Aerospace (Known as Samsung Techwin), Daewoo Heavy Industries, and Hyundai Space and Aircraft formed a single business entity, Korean Aerospace Industries.




Samsung Electronics TV Phone and Watch Phone made Guinness Book of World Records in 2000.




Samsung Electronics and Yahoo! formed a strategic alliance in 2000.
2001, Samsung Electronics unveiled Industry's First Ultra-Slim Handset and Samsung Electronics Developed worlds first 40-inch TFT-LCD.
Samsung became the sponsors of Premier League Football club Chelsea in 2005
Samsung Electronics Launched the Worlds' first Blu-Ray Disc Player.
S-LCD was established as a joint venture between Samsung and Sony in order to provide a stable supply of LCD panels for both manufacturers.

Samsung Electronics achieved No.1 Worldwide market share position for TVs for the 7th quarter in a row
Samsung Electronics BlackJack bestowed the Best Smart Phone award at CTIA in the United States.
In 2008, Named Yoon-woo Lee as a Vice Chairman & CEO of Samsung Electronics.
Samsung Electronics became the official sponsor of the 2010 Guangzhou Asian Game.
Samsung takes No.1 spot in the United States cellphone market.
Samsung Electronics announced its open mobile platform "bada"
Samsung C&T opened Burj Khalifa, The Worlds Tallest Building
Samsung Heavy Industries became the world's 2nd Largest shipbuilder measured by revenues.
Samsung reported consolidated revenues of 280 Trillion KRW ($258 Billion), and profit of 30 Trillion KRW ($27.6 Billion).
Samsung announced that it will invest $20 Billion in new projects such as in eco-friendly and health care sectors by 2020.
Samsung acquired the stake of Sony in S-LCD joint venture.
Samsung Electronics sold its hard disk drive business to Seagate.
Samsung Group comprised 59 unlisted companies and 19 listed companies all of which had their primary listing on the Korean Exchange.
Samsung Electronics became the world's largest mobile phone maker by unit sales, overtaking Nokia, which had been the market leader since 1998.
Samsung had invested more than US$ 13 Billion in the Austin Facility, which operates under the name of Samsung Austin Semiconductor.
Samsung Heavy Industries started work on a "ship" that, when finished and fully loaded, will weigh 600,000 tonnes, the world's biggest ship.
Samsung became the world's biggest advertiser in 2012, spending $4.3 billion, compared to Apple's $1 billion.
In 2014, Samsung Electronics launched the Galaxy S4 in the Korean market and Global Markets.
Samsung Electronics spent as estimated $14 Billion more than Iceland's GDP on advertising and marketing in 2013
Samsung Electronics announced the expansion of Galaxy Note series with the new Galaxy Note 4 and Galaxy Note Edge
Samsung announced a $14.7 Billion investment to build a chip plant in South Korea. Samsung Techwin was sold to Hanwha Group in December.
Samsung Electronics announced the commercial launch of the Galaxy S5 and the Samsung Gear devices in 125 countries
2005, Samsung Electronics unveiled the Galaxy S6 and Galaxy S6 Edge with the world's first curved display on both sides.
Samsung has been granted more U.S. patents than any other company _ including IBM Google, Sony, Microsoft and Apple Samsung Electronics launched the Gear S2, a stylish smartwatch with a versatile circular design and the rotating bezel.
Samsung Electronic's profits hit two-year high according to estimates due to the success of Galaxy S7.
Samsung released a fitness smartwatch called the Gear Fit 2 and a brand of wireless earbuds called Gear Icon X
Samsung recalls and cancels production of Galaxy Note 7.
Samsung unveils Galaxy S8 in 2017
Conclusion:
Founded by Lee Byung Chull in 1938 as a trading company. Over the next three decades, the group diversified into areas including food processing, textiles, insurance, securities, and retail. Samsung entered the electronics industry in the late 1960s and the construction and shipbuilding industries in the mid-1970s; these areas would drive its subsequent growth. Following Lee's death in 1987, Samsung was separated into four business groups – Samsung Group, Shinsegae Group, CJ Group, and Hansol Group. Since 1990, Samsung has increasingly globalized its activities and electronics; in particular, its mobile phones and semiconductors have become its most important source of income.